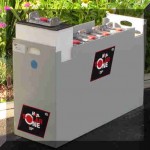 2100 80%-deep cycles over 10-year warranted service life means more cycles and usable battery capacity in Renewable Energy service.
10 year warranty: It is the original and still the Best Warranty in the Renewable Energy industry and it just got even better, 7 years free replacement, 3 years prorated.
Slightly enlarged epoxy coated steel case enables each battery cell to be removed for Easy On-Site assembly.
A Lifetime jar-to-cover heat seal Guarantee is possible due to the "welding" of the cell jar to the cell top.
Lead plated copper intercell connectors with stainless steel connecting hardware are included with every Solar-One® to ensure Maximum Energy Transfer, reduce corrosion and maintenance.
Free shipping in continental United States adds even More Value to the Solar-One®.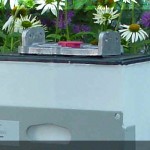 ISO-9000 Certified manufacturing plants and process assures you of batteries made to the high international Quality standards.


Solar-One® uses a special patented recipe to achieve Even More Extra Life at deeper cycles than the competition.
Solar-One® uses flip top caps that Reduce Maintenance time.
Solar-One® is available in 10 sizes which reduces, or in many cases eliminates Unnecessary Paralleling.
Solar-One® is the only battery in RE that has over 9 sq. in. of terminal area that allows for Multiple Connections to the battery without the need for expensive terminal blocks.
Solar-One® batteries have been in RE service for over 12 years yielding an extremely good track record with less than a 1% Cell Failure rate.